A Beta's Treasures: The Joy of Finding Diamonds in the Rough
I was surprised/flattered/frightened when asked to recommend a story for TLYDF. The first two reactions are probably self-explanatory, but the fear element might require a word or two. You see, the very sad truth is, between my writing and beta work, I don't have time for recreational fanfiction reading anymore. Oh, I have plans to indulge, believe me. Now that Midnight Desire is "completed," in one sense, I have a long list which I will start on soon. But I haven't been able to keep up with all the current stories in ages, not to mention the challenge of finding that unknown, underappreciated gem out there, in keeping with the spirit of this blog.
In addition, as a rather recent member of the beta staff at Twilighted, for the most part I was reviewing newer stories, very few of which were truly developed enough to recommend as a solo piece. That said, I beta a LOT of stories, and quite a few of the stories and writers really showed promise. So, it was only natural to turn this into a group piece, similar to the answer you would receive if you asked me, "Of the stories that you beta, TZ, which ones should I take a look at?"
Now, the disclaimer. Again, I beta a whole lot of stories – I'm a little afraid to admit to the actual number, but I do keep a list. So I couldn't possibly write about them all – this article would be miles long. If I beta a story over at Twilighted, and I don't mention it here, it likely results from one of the following reasons: 1) the story isn't developed enough to make a clear judgment as to where it's going, whether it will ultimately work, or to get a consistent feel for the author's skills, 2) the story has not been updated with any regularity, or hasn't been updated within the last month (in both cases I automatically eliminated them from the list), or 3) I just plain ran out of time/space here to write about them, particularly in the AH genre, in which we get a lot of entries.
So, most of these writers are lesser known, and, in keeping with the intent of this site, you will primarily be given a glimpse of fics that are relatively unknown and underappreciated. Maybe you'd call them part of the next "generation" of Twilight fanfiction writers, although there are a couple of obvious exceptions, one of whom I will start with. That said, these appear in no particular order, although I have separated them into AH and AU/Canon categories. They are heavy on the BxE side – just can't help myself there – and frankly, there's not a lot of fluff. As a result, these stories will not be everyone's cup of tea, although I'm pretty sure there's something here to please everyone. One final thing you will notice – the word "different" will appear a lot. After a very short time of validating stories, you quickly realize that different is good . . .
All Human
Segolily
has been a prominent name in the Twilight fanfiction community for some time. So, when I saw her newest story in the queue,
The Weed Collector
, I knocked the other betas out of the way and nabbed it. As is typical of her writing, she deals with conflict in a brutally honest way. Her characters are flawed and the issues are serious and significant. This isn't the type of "misunderstanding" conflict that could have been resolved if the heroes had just had a short conversation - you know, the kind where you're screaming at the characters to "just fucking talk to each other already" so it could all be cleared up in ten words? To the contrary, this story will make you think, and her characters are memorable and well developed. Of course, originality with her work is a given. This isn't a story line you're going to run across . . . well, perhaps ever. I don't really want to give much away and clearly I haven't, but I do encourage you to take a look at it, understanding that this is one of those stories that some people will have issues with. There are no easy answers in her stories, and ultimately, the reader is forced to conclude for herself how she might handle the particular situation presented. And if I just scared you off, please remember – it's got Segolily smut in it!
I encourage you to take a look at
Self Conclusion
by
Shannabella
. The title gives you an idea of the subject matter, so again, no fluff here. But the writer's prose is intense and compelling, certainly very . . . different from the standard fare. The way the story line is developing is quite unique, as well. The writer also has a couple of one-shots at Twilighted, and they are typical of her singular and impassioned style of writing.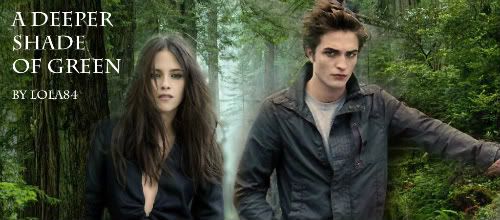 I'm also very much enjoying
A Deeper Shade of Green
by
Lola84
. It's the typical Forks High setting, but her BxE are . . . different. Bella's snarky, but with a purpose – we come to understand why she is that way. I mention that because I find that snark for . . . um, snark's sake quickly grows annoying. If a character is a smart-ass, and can be kind of bitchy to boot (sorry, Lola), I want to know why, and it better be something more than the just author thinks it's "cool." But we do understand why this Bella's got an attitude, and now the question is, can Edward change that – and more importantly, can he himself be helped? At this point, that's a pretty big question in this well written story, and I'm anxious to discover the answer. (See her AU story mentioned below, as well.)
Check out
In the Days of Auld Lang Syne
by
Grendelsmother
. Now, I've just violated my own rule, because there's only a few chapters written, but there's a twist here – because there are three stories by this name, each the same story, but written in a different point of view by different authors, so technically, there's more to the story. Grendelsmother is writing "
Attractive Nuisance
," which is Emmett's version, and honestly, I was laughing hysterically while I was reading it. I actually choked a few times. But don't get me wrong – Emmett has substance and his character is quite moving. So it's the best of both worlds – you're laughing but you can still feel his pain and appreciate the way he's dealing with it. Another author,
feistyyoungbeden
is writing
Alice's point of view
, and honestly, I've only read one of the several chapters she posted, but it was truly beautiful. I was crying for an entirely different reason, and it was an utterly refreshing change to see more than the shopaholic pixie. (Hey, don't be pissed – we've all done this to poor Alice at one time or another – the girl deserves a break.) So, the third entry into this story is
JayneRulis
's
Edward
, which I also liked very much, at least the small bit that's posted as of this writing (hint, hint). I do not serve as beta for the Alice and Edward parts of the story, and I haven't quite forgiven the authors for that yet. And in keeping with the idea of introducing authors, as opposed to only stories, JayneRulis also has an AH story called
Observance
which is off to a good start.
For just laughs without the tears, take a look at
Earthquake
by
jfly
. Admittedly, she is a well known and highly regarded author, but I felt like pimping her work anyway. This story is just a fun, sexy romp with a clever twist in the beginning that I totally admired and wish I had thought up. Did you ever think you'd love a story about virgin sacrifice on Isle Esme? You will, believe me. She's made up all sorts of ridiculous facts and geography and cultural references and it all works. This story is complete, so that's a definite plus, as well. In short, it's clever and original and did I mention . . . different?
Another fun, sexy story I'm enjoying is
Cocktails & Dreams
by
whynot
, featuring canon pairings. The question is, can Edward find his dream girl and, if he does, can he help her overcome her insecurities, overcome his own and win her love? And why in hell does Carlisle have that stick up his ass, anyway? Now, I'm not a huge fan of insecure Bella, but by virtue of a cute twist of fate, Bella does have a reason to feel that way this time. I believe this author will develop further, and I hope to see a number of solid, well written stories from her to continue her promising start (see her other story in the AU section below). I have not yet had a chance to read the other stories posted by whynot, but I think I can safely say that they will all be well written.
If you're looking for something lighthearted and also suitable for younger readers, take a look at
Life, Liberty and Pursuit
by
aerosoldac
, again, another author I mention in the AU section as well. Here we have Navyward and Bella as young star crossed lovers, and both are faced with realistic decisions about whether you should let a new love change the course of your life. The author approaches the subject matter with honesty and humor.
Now, just to be fair and give equal time to the other side,
Surrogate Love
by
shwriteme
is dripping with delicious potential for endless amounts of plot driven smut. I mean, the profiles of the characters may allow for certain developments in their physical relationship. I believe this story offers an opportunity to gain an understanding of various significant psychological issues – a learning experience, if you will. And lots of lovely smut!!! Just to be clear though, I'm not recommending it for that reason. Not at all.
And a couple of quick mentions, since I'm running out of time, but I'm also quite enjoying
Afraid to Dance
by
Shannon Carr
, a well written story where you can see Bella finally go to Dartmouth and meet perhaps the nicest Edward in the fandom. Niceward, I guess. And a newer story by
alicedances
called
Maybe I'm Amazed
, featuring an unlikely attraction between a popular Edward and a sarcastic Bella, has also recently captured my attention, and I'm looking forward to seeing it develop. So, all in all, these ought to satisfy your AH cravings for a while.
AU/Canon
Let's start with something completely . . . different:
Commission
by
SpikeisHotter
, an AU/OOC and utterly original story. First off, the writing is truly stellar. In addition, we see here an Edward who, while a vampire, has very little in common with the Cullen vamps. That said, the beginning of the story is a very compelling description of how he develops a conscience, a process that is only alluded to in the actual saga. Since absolute abstention from human blood is not an option for him, Edward becomes a hit man, meeting Bella during a business transaction in which she engages his services. Thus far, it is a fascinating and intelligent story, and I strongly encourage you to take a look at it.
Now, since just looking at the cover of New Moon still makes me cry, I generally avoid like the plague any stories in which Edward leaves Bella for a period of several years. So, it is a testament to the writing skills of
right2write
in
Standing Alone
, that totally sucked me into the story immediately and induced me to pick it up. Her prose is absolutely beautiful, and I'm very excited about this story. Many of the fics involving Edward's return really leave me wanting in one particular respect – it rather troubles me that he, along with the rest of the Cullens, are so easily forgiven. Bella is really, really , really mad/hurt/confused, but ten minutes later, all is forgiven. I realize this may be just my own particular bugaboo, but I've been yearning for a story where Edward (and honestly, the rest of the bunch, too), first get their due comeuppance. Hey, call me vindictive – whatever. And while clearly broken by their abandonment, we are still seeing a strong Bella in this story, with that famous stubborn streak firmly in place. Can the Cullens worm their way back into Bella's life and heart? I'm really looking forward to finding out . . .
A completely AU story that doesn't fit into the Twilight timeline at all is
Lost and Found
by
Twilightedaddict
. In this story, Bella, a grief stricken young widow, meets fellow grad student vampward, who feels compelled by something other than bloodlust (or just plain ol' lust) to help her heal. The mystery surrounds the origin and meaning of that compulsion and whether or not Bella is too far gone in pain to be capable of being helped.
Before I started reading
Darkest before the Dawn
by
aerosoldoc
, I truly did not believe there was anything to be added by another version of Midnight Sun (said the pot to the kettle), especially one that starts at the beginning of the book. I can't tell you how happy I am to be proven wrong by this talented writer, who surprised me chapter after chapter with insights into Edward's head that I found to be both moving and enlightening. I encourage you to give this story a chance, because by about the third chapter I was sold and became a true believer by chapter four.
If you like a little angst with your angst, check out
A Darker Shade of Twilight
by
vampgirl
. This completed story is an alternative ending to Twilight (warning: contains sexual assault, although thankfully, not too graphic) and focuses primarily on Bella's recovery from her ordeal in the ballet studio and Edward's guilt (why can we never get enough?) until we see the introduction of a new threat that has to be dealt with. It's hopeful to see Bella's growth throughout this story and the ways in which she gains strength, and I have it on good authority that a sequel is in the works which will (I believe) represent the author's conclusion to the saga. I might also add that Jacob haters are going to love this story, and can I just say, we knew it all along . . . To be fair to the author though, she does make clear the reasons for Jacob's decisions in this story, so unless you're desperate to marry Jacob and have his puppies, you will understand his motivations.
I mentioned
Lola84
above in the AH section, and although her new story,
Eternal Night
, a Twilight AU, is in early stages, she's got me a bit schizophrenic as to which of her stories I want her to update the soonest. Bella wakes up . . . changed, but doesn't really know what she has become. When she recalls her attacker, she goes looking for vengeance. So all I have to say is, go Bella!
Moving on to some New Moon AUs,
whynot
has also served up
Tremble for my Beloved
, a solid, well written and entertaining fic in the "Bella gets changed by another vamp" subgenre. Demetri is back and he's pissed, so watch out for the fun to come. I don't believe we'll see any anticlimactic confrontations in this one. If you're particularly fond of this sub-category,
Choices
by
LeesaM
is also a solid, well . . . choice and offers up the author's own alternative ending to the Twilight Saga, not to mention a totally wicked kick-ass vamp moment.
Moving onto a post Eclipse story, I'm quite enjoying
The Escape
by
jedishelly1
, where we see Edward expressing his concerns about Bella's reluctance to go forward with the wedding plans, and it appears so far that Edward is willing to bend a few of those silly rules to help convince Bella to move ahead.
And onto another category of story I don't usually seek out – the post BD fic. Part of the fallout from the BD controversy is that a portion of the fandom has pretty much abandoned that genre entirely, whether it be reading or writing. At the same time, if we don't grow in that direction, we all know it will become increasing difficult to find anything . . . different. In fact, this is probably the most fertile area for introduction of new plot lines and characters while staying within the Twilight world. And we see that taken advantage of by
Hopeful Wager
in
Will You be Ready When it Comes
. She introduces us not only to a couple of new main characters, Moira and Mathias (sigh), but an entirely new form of being with an interesting history and cogent theory behind her existence. And did I mention Mathias? Seriously, the effort that has gone into this complex plot line is truly impressive, and not once will you have one of those BD "what in the hell just happened and how do you explain it" moments. Not to mention the love that has gone into constructing Mathias . . . Oops, I did it again. Finally, I just have to say, you gotta love a story that has Edward yelling, "For the love of mercy, Bella, rutabaga!" As an aside, I have heard a rumor that alternative endings may be offered up, which means everyone should leave happy.
In reviewing this grouping of stories, I find myself rather appalled at the lack of smut I've recommended. Well, it's early days yet for a lot of these stories, so there's room for hope. I mean, if you like that kind of thing. But to make up for it, I'm going to completely wander off the reservation and recommend everything ever written by
JenWordSong
. Now, you ask, how can I suggest one of the most popular and well-known writers on Twilighted in a blog dedicated to underappreciated fics? And I have a ready answer. Because I feel like it. Seriously, although it is true that Jen's stories are very popular on Twilighted, her work, in my opinion, is far underappreciated on fanfiction.net. We're talking about the Goddess of Twilight Smut here, people. The emotional content in her love scenes never fails to deeply move me. Her post Eclipse story,
Die to Self
is the only thing that kept me from running out into rush hour traffic after reading BD. Yep, it saved my life – that's how powerful it is.
The Oath
is my personal favorite and let me ask you, when's the last time you read a sex scene that made you cry? That's the level of passion and feeling her romantic stories consistently evoke. And her newest story, Awake, should be particularly appealing to Emmet fans. Okay, done with rant.
Everyone go read now.