Welcome to the first installment of a three part series deconstructing BDSM in FanFiction. A very awesome and well respected author recently came to us with a request to explore the subject and new trend. So Smellyia, Tricia and I all looked at each other and said the first thing that naturally came to mind:
"Not it!"
Well, I got it. Or... not really. The truth is... I don't write BDSM. I read a little, but not because it's BDSM. If I'm reading a fic it's because it's slash or a really good E/B. The BDSM aspect is really not the reason I seek it out. Suffice to say, I'm no expert on the subject. Not by any stretch.
Lucky for us, we just happen to possess the tools necessary to harass those who are.
Our panel for this installment includes the following, lovely Mistresses:
They all motherfucking win. So... after a few cute
baby
drama llamas, a couple requests, a lot of emails, five chat prompts, three outlines, my entire night in Photoshop, and a hundred or so questions... I think we're ready to get all kinds of Dommie up in this bitch.
---
Part 1: WTF is a BDSM
(OMG, acronyms make me die ded...)
Okay, someone needs to explain this to me this, PLEASE. What the HELL does BDSM stand for? There are too many potential "D" and "S" and "M" words here. While you're at it...
Why don't you tell me what BDSM means to you in particular?
Mistress DefinatelyStaying
The acronym BDSM is a hybrid of:
Bondage/Discipline
Bondage/Domination
Domination/Submission
Sadism/Masochism
Really, it's a catch-all for anything that society considers deviant in relation to bondage and/or pain.

What does it mean to me? In a word – freedom. It allows me to escape and explore a place of fantasy and sexual gratification without fear of judgment or emotional burden.
Mistress Tara sue me
I am in no position to tell you what D/s and BDSM are.

I am, however, in a position to tell you what D/s and BDSM are not:

- Kidnapping and/or raping a person is not and NEVER WILL BE D/s or BDSM. It is illegal, heinous, and should be punished to the fullest extent of the law. Bottom line. Don't even think about arguing with me.

Calling a person 'my pet' does not make them your sub, nor does it make you a Dom.
Being a Dom is not about lording over someone or beating them up.
Being a sub is not about being a doormat and doing anything the Dom says.
A Dom does not have to right to do ANYTHING he/she wants.
A sub does not have to take EVERYTHING the Dom dishes out.
Mistresses Kittenmischief
Bondage, Discipline, Dominance, Submission, Sadism, Masochism. To me it is more than just a kink, it has flowed in and out of our lifestyle, mostly out now that we have children. "Daddy, why is Mommy all tied up," just isn't a question we want to deal with should a four year old wander into our room.

It involves restraint, both physical and mental, readjusting the flow of power between two or more individuals, and can involve pain but does not have to. Done right, it is a beautiful dance between the participants, done poorly it can be damaging to all involved.
Thanks for clearing that up for me ladies. I am nothing if not constantly ignorant about acronyms.
---
Part 2: Why BDSM anyways?
What's wrong with some plain ole smut?
There is no doubt that BDSM is a complex subject to explore. I mean, look at me. Posting this all hours late because I underestimated the complications. Anyways, to the mistresses joining us today...
Why write BDSM? Why not something else?
Mistresses Kittenmischief
We both write about a lot of other subjects, this was just the one we chose for our co-authored piece. Dark Salvation is a hard piece to write as there are so many emotional ups and downs to the story. By the time we're done writing, we feel as if we've been on a rollercoaster for however many hours we put into a chapter. But, at the same time, it gives us both a chance to delve into areas that in mainstream fic are normally off-limits. (Don't tell my erotica bookshelf that, it will feel like the odd one out.)
OMG, I'm so calling your erotica bookshelf, like... ten minutes ago. She says you are FAIL.
Mistress DefinatelyStaying
Some people are enticed by a romantic candle light dinner…

Some people like to don a silk robe and give a sensual massage…

Me? I like to use the silk robe tie, the dinner table, and the candles to a different purpose. I write about those types of relationships and experiences because that's what I'm into. The first thing they tell you in any kind of writing course is write what you know, write what you're passionate about. This is what I'm passionate about.
Mistress Erinmiyu
I enjoy writing about it because i think there is a general misconception of what it is. Not all aspects of it are regimented, rigid. There seems to be a consensus of people who claim "Oh I won't read BDSM fic... it's not for me"--and that's fine, it's not for everyone, but I think it is disregarded that there may be aspects, watered down or not, they write in fic that do fall under this genre.

That's great...
but I also wanted to know if people read BDSM. I did an anonymous reader survey to see what readers thought of BDSM and about reading it. I pulled from a group that I didn't know well enough to dicscern whether or not they were frequenters of the genre. Here's what they had to say.
I have read a few stories, it is not a genre I usually seek out but after seeing the influx of BDSM stories I decided to check them out. I was also interested in whether twific would explore what I felt was the most intriguing aspect of that lifestyle, the psychology and dynamics behind it. What I found was that there seem to be many different takes on D/s on the stories out there. Some are focusing more on the physical aspect while others explore the full relationship
I like smut, like just about everyone else, and enjoy seeing the different perspectives of the scene that others bring to the table.
I was a bit hesitant to read it at first because I don't know a lot about the BDSM lifestyle and I sort of envisioned Pulp Fiction (you know - bring out the gimp) any time I thought about the genre. However I try to be open minded and learn more about something before I dismiss it completely and so The Submissive seemed to be a good toe in the water because it was such a popular story. As I read it, I sort of thought Edward was a very lenient Domward, he sort of let her get away with much more than I imagined a dom would be (you learn later why this was of course). The sex was undeniably hot and I enjoyed the evolotuion of the plot as well, it was more than just porn-without-plot.
Thank you for your honesty, folks.
---
Part 3: Putting it in FanFiction
What makes it work?
Now, I realize that BDSM is intriguing. In fact, I'm fairly certain that since the trend got big, Home Depot is seeing a rapid rise in rope and pulley fixtures. That's all good.
But how does it translate, and most importantly, why is FF a good venue for it?
Mistress MsKathy
I personally enjoy BDSM in fic best when it is done elegantly and intelligently. I think this is a good venue to do so because it's a natural place to discuss variations on themes -- that's what we're all doing with fic, right? Also, I think people have an easier time reading something 'alternative' than, say, watching a movie or having an in-person discussion about it.
I tried having an in-person discussion about it once.
My grandma never calls me anymore...
Mistresses Kittenmischief
I think the dominance struggle and the submissive's giving up the reins of his/her control yet ultimately being the one holding all the power is what shows the best. In fic, the reader has a safe way to experience the BDSM "scene" without any repercussions. If spanking happens to be what gets you off, yet you are too shy/embarrassed to ask your partner to do it, you can read about it. Perhaps leaving the fic around or reading it together can help get your unexpressed needs met.
You mean you can't just email him from downstairs and say "Some really kinky shit in 10?"
Mistress DefinatelyStaying
I find that BDSM is best translated in an AH/AU story by an author who is passionate about the subject. One of the characteristics of this type of play is vulnerability. That isn't very realistic in all vampire fiction. I think it can be done, but AH is more reasonable.

The fic is best done by someone passionate about the subject because they will take the time to research and provide a reasonable portrayal of the relationships involved. Tying hubby to the bed and having your way with him is one thing, but to get into a committed relationship with a Dom/me or sub can be dangerous if you're not careful. For example – you should never do any kind of scene or play with someone that you don't trust, and have confidence in – and don't ever play without a safe word.
My Reader Focus Group
was asked what place they believe BDSM has in the Twilight fandom. I wanted to know if anyone turned their noses up and got all prudish, but... shockingly, no one really did. Maybe this is because we have all come to terms with the fact we're a fandom of total fucking perverts. Which is a good thing. Honestly.
I believe that there is definitely a place in the fandom for BDSM related stories, as they fill a need, and obviously have a following of fans. I think this genre will only continue to grow in the fandom and as long as authors remember their responsibility to their readers by providing accurate information, warnings and disclaimers, this can only be a good thing.
I think there's room for all perspectives in the fandom, from K+ sweet romance to slash to BDSM. What I don't think there is room for are the fics that take these characters we've grown to know and love and put them into abhorrent roles of rapists, abusers, slave traders... if that's your kink, then maybe a therapist is a better idea than writing fic. I know there's been some controversy about rape in fic... Just One of the Guys, for instance. But there is a HUGE difference between showing a character recovering from that experience and portraying that experience as smut. Rape is definitely an experience that happens in reality. But Bella isn't going to fall in love with rapist Edward. It's just... reprehensible.
As long as this activity is consensual between all parties if being portrayed as titillating, I have no issue with it being part of the fandom - I actually welcome it because I've enjoyed quite a few stories that highlight the BDSM lifestyle.
---
Part 4: The Impact
Are We Just Really Depraved?
So, it goes without saying that BDSM isn't for everyone. But no one can possibly deny the recent explosion in fics exploring the theme as of late. More importantly, some people are putting the name "BDSM" to stories which aren't really BDSM. This gives readers a false impression and makes them want to NOT ever return to the genre. Sooo lovely mistresses...
What would you say to the people who believe the new trend of BDSM fics has pushed the fandom to new depths of 'supposed depravity'?
Mistress DefinatelyStaying
Depravity is a relative and subjective term. In our lifetime, it was considered the height of depravity for unmarried couples to have any kind of sexual contact. In other cultures, a woman speaking with a man to whom she is not related is considered depravity. The expression of love and devotion between two consenting adults who happen to be of the same gender is still considered depravity by some. To those who find my work, or similar works 'depravity', I would say that Microsoft, Mozilla, and even Google and Apple have put an ingenious little device in their latest cutting edge browsers. All the way up in the right hand corner of any browser – you will find a close button. No one is going to tie you up and force you to read it.
Nice choice of words there, DS. And I don't even think it was intentionally pun-ny... Get it? Punny, funny, like a play on... *chirping crickets* ~taps microphone~ Is this thing on?
Mistresses Kittenmischief
If they (those thinking we're heading into depravity) don't like it, they don't have to read it. I promise I'm not behind them, tying them to the chair,forcing them to read Dark Salvation, and then give me a book report. Even if it wasn't in print, it was still in the authors' minds, we're just sharing our gift of writing with the masses. The Erotica fic market for at least the past ten years (that I've been legal to go shop for it) has been full of BDSM stories. It was no surprise that fanfic has some as well. Reading a story is not going to corrupt your actions, no matter what you're told. If someone likes to read about BDSM, s/he most likely already had that tendency, but this was the first experience s/he had with the lifestyle. Of course, I'm also a bi-poly-pagan so I'm used to being a source of corruption. Adding BDSM to my list is just the icing on the naughty kitty cake.
Mistress MsKathy
I'd probably agree. There's a difference between tactfully being kinky and using a kink as an excuse for abuse. I'm as big of a perv as the next gal, but there is a fine line of depravity where it is done simply for the sake of being depraved. I personally don't get off on the "dirty" aspect of acts -- the shame of it, that's not for me. I want to feel good and happy about what I chose to do, so I tend to avoid fics that are shocking/shameful in an attempt to stimulate me BECAUSE of that shame/dirty-ness.
But, you're the authors...
and the readers might have something different to say. Cue the... Thank God this was anon sigh of relief. So my loyal readers... Would you agree with the people who believe the new trend of BDSM fics has pushed the fandom to new depths of 'supposed depravity'?
When reading fiction, there is one thing the reader must always remember…if you do not like it, do not read it. Browsers are easily closed, favorites easily removed and alerts easily deleted. To me, depravity is a subjective term. What one reader considers depravity can be vastly different from what another might.I might get squeamish about a certain relationship pairing and not continue with a story, but I can read, and enjoy, Jasper getting whipped by Edward. Twisted? Yes. Definitely. But to me, the relationship pairing is more bothersome than the whipping. Go figure.
Yes and no. Most BDSM fics that are out there are, for the most part, not depraved. The success of The Submissive/The Dominant is testament to that; the fics are popular enough to have "crossed over" into the general audience for fandom. That said, however, there ARE writers who see the success of fics like that or The Forbidden Room, and think that it's all about pushing the envelope to get readers in. It's resulted in a new trend of rape/abuse fics that have absolutely NOTHING to do with the reality of BDSM and everything to do with trying to push it over the top in an attempt to get readers from the controversy.
whatever....we all live RL every day...fanfic, smut, and BDSM smut is a fun escape....so to those ppl I would say "shut the hell up...if you don't like...don't read!"....and as for BDSM....I personally am very glad for the trend...it has opened my mind up to something I wasn't aware of before, and I always love when that happens!
---
Part 5: The Real Lifers
Are you writing what you know here?
The most common question I got asked by readers while doing this is... do they have real experience? Well, that seems natural to me. I was actually really nervous about asking people something so personal. I don't even like readers knowing the initials of my real name. Surprisingly, they were very forthcoming, and even though I offered anonymity, no one requested it.
Do you have any Real Life experiences with the lifestyle, and if so, how do they transfer over to your craft?
Mistress Kittenmischief
Yes, I do. I've dabbled in it and I have two friends who are Doms in their real lives. As with our story, I also have experience with Shibari, and tried to highlight pieces of that into our story. While Dark Salvation has BDSM themes and the main characters are a Dom and his Submissives, it is not a D/S story by any means. It is a story about how love can hold us together in the face of a destructive inner darkness.
Mistress MsKathy
I do have Real Life (tm) experience. How does it transfer? In every single word I write.

I've played with one-time partners, been in a committed/collared relationship and everything between. I've been a part of an active in-person social group and talked to countless people about every aspect of BDSM. I was fortunate enough to be a participant in a 10-month program where I was mentored by some of the most knowledgable people I've ever met on detailed BDSM-themed subjects, for which I will forever be grateful. I've been to play parties, I've met 'professional' Dommes.
Mistress DefinatelyStaying
I have been a sub since my early 20's. In the strictest sense of the word, I am a switch – but my preference, what satisfies me most, is to sub for a male Dom. I got into the lifestyle as a lot of people do – by association with someone already actively pursuing it. My experiences and my imagination translate almost directly into my stories. For example, in The Forbidden Room, I have worked with a lot of the equipment that I describe in the story – just not in a male/male session. Though, most of the work done with Bella in those scenes is directly from my experience. For example – a custom padded sawhorse was made for me (to my exact height, etc.) at one point in my role as a submissive. The smaller equipment that you see in the House of Cards banner is actually mine.
---
Part 6: The Good, The Bad, and The Squicky
Why you be writin' rape fics?
I know I usually refuse to talk about my own experiences with my story, but I can't help it this time. People sometimes group my story as a rape/abuse fic. This drives me insane, seeing as how there are no mentions of rape or prolonged abuse in the story. Somehow... dark past = abuse, and sex fear = rape. Well, it isn't.
A lot of people fear the rapefic. It can be done tastefully, ngl. But... some people get false impressions from wrong fics out there who label themselves BDSM. This is one thing we know about.
Mistresses,
Do
you

see any startling trends in BDSM fics that bother you?
Mistress Erinmiyu
YES. YES. YES. This is exactly why I wanted to write this fic. There are three trends that seem present: first, passing off abuse or rape as BDSM. It is disrespectful and uninformed to write either of these situations as such. I take no issue with someone writing a rape fantasy fic, but call it what it is: rape/abuse fantasy, not BDSM.

On that note, there is a great deal of humiliation play I see (amongst casual play and in LTR), far more than I think is statistically realistic--if we actually had stats about this, I mean! (by humiliation play, I am referring to those in the submissive role being called derogatory terms, i.e. "slut" or "whore", which is something I personally would never agree to)

The second trend I see is more of a Total Power Exchange, or more of a Master/slave relationship than Dominant/submissive. M/s relationships definitely exist, but they are more of the minority than majority. In fic it seems the opposite, that they dominate (har har) the genre, showing Edward in total control. It doesn't even seem like a negotiation of terms anymore, it is more him saying "these are things you are required to do, if you don't like these terms then we aren't entering into an arrangement." Where's Bella's say? Dominant does not mean domineering, nor does submissive mean mute.

And thirdly, I see the relationships being cut-off from real life emotions. I am not saying that it isn't possible to separate emotions from sexual experiences, but I think in real life it's very difficult, regarding the level of trust and understanding needed for this type of relationship.
Mistress MsKathy
Yes, I'm really sick and tired of seeing BDSM as a cover for abuse. In my opinion, BDSM requires the deepest level of trust and respect; anything that blooms from abuse therefor inherently cannot fall under the BDSM umbrella for me. No relationship based on reality is ideal, but if you're starting a BDSM relationship with kidnapping, rape, drugging, anything OTHER than clear and coherent consent, it's not BDSM - it's abuse.

It also frustrates me because people who might have an open mind read these stories inaccurately tagged as BDSM and then tag ALL stories as depraved/abusive and never give the genre another chance.
Mistress DefinatelyStaying
There are two things that I have seen in the stories I've read, I don't know that I would call them trends, but they concern me nonetheless. The primary message that you will see if you delve at all into responsible BDSM is "safe, sane, and consensual". The first thing that I have found is the lack of a proper safe word in a committed relationship, or making the sub afraid to use the safe word for fear of reprisal.

The second thing that I've seen is abuse under the guise of BDSM. A BDSM relationship is one based on trust and mutual sexual gratification – not one person getting off at the expense of another. Stories that include rape, incest, violence, or torture are not something that I would consider responsible BDSM and give people a false impression of what a real relationship is like. I'm not necessarily condemning those stories en masse, only their mislabeling.
Readers?
Rant to your hearts' content. Bad trends. Go.
I am bothered by the amount of fics that are done purely for shock value. To get reviews or attract attention. It seems to me that any lifestyle that people explore and engage in should be treated with respect. Respect requires research and doing the topic justice.
Rapefics are a hard limit for me. I will drop the story faster than I can say turpentine if I feel like it crosses into the non-consentual territory. Sexual abuse is not and never will be titalating.
What I don't like are the fics that encourage the mindset that everyone involved in the scene is psychologically damaged, incapable of being in a loving relationship, abusive, or dishonest. It furthers stereotypes about people who ARE in the scene and perpetuates the myth that BDSM is all about pain and abuse and not a trust relationship where people can indulge their particular kink. Fics that misuse the idea of safewords, don't encourage care for both partners, involve lying to people, etc. really just drive me nuts.
Mistresses...
it can't all be a crapshoot.
What are some positive trends in BDSM?
Mistresses Kittenmischief
Honestly, the only thing I've seen that has carried over is that the Sub in most fics was sexually unadventurous and learned that there are many wonderful positions and activities that can be done. The positive trend I have seen is that BDSM stories are helping to remove the "shock value" that BDSM holds to the public. We once had a reader send us a PM that she found out a friend of hers was a Domme and was not as "freaked out" by the news than she may have been before reading our story.
Mistress DefinatelyStaying
The trend that I have to say that I am most happy to see is not so much in the fics, but in the readers of those fics. I have found that through some of these stories people are becoming more adventurous, more willing to experiment with their partners. I am thrilled that my work helps other people find new and exciting sexual experiences by opening the door to something they have never considered. These stories show them that there is a whole different side to the lifestyle than is generally portrayed.
Mistress MsKathy
I find the trend of simply talking/reading about it to be positive. Very mild portrayals like The Submissive/Dominant garnered a lot of attention and pulled in many people who identify as vanilla because of the relatability to the characters. Edward isn't over the top, Bella isn't a complete dishrag.
Readers?
What do you like about BDSM fics? Gimme positivity!
I enjoy the fact that these characters get to live a lifestyle that I find fascinating, that they are, essentially, living out a fantasy for some readers. This can be highly satisfying in a few ways. For those not able to seek this lifestyle out in real life, these stories are a chance to live it, to be voyeurs, through characters they love. To date, I have not experienced many aspects bother me, per say. I do hope that all D/s related stories portray healthy, willing submissive who are respected by their Dom/me, that safe words are explained, used correctly and for the right reasons.
The aspect I enjoy is reading about a lifestyle so very different from mine. I have only found one story that I think delve into the aspect that I find the most intriguing of the trend. I wish there were more that explore the dynamic and power play that seems to be at the heart of bdsm.
I'm going to just say it. I have a thing for a Dirty Talking Edward. These fics - because of the nature of BDSM - almost always has a DTE. His dirty talk in the fics I've read just never disappoints. I may not understand all of the equipment or the positioning (thank goodness I know how to clear my cache because my husband may be wondering about some of my google searches otherwise), but when Edward opens up that dirty mouth, I'm sold. Whenever I think of DTE, the BDSM fics always come to mind first.
Well, DTE always wins. Let's be real here...
---
Part 7: Pairings
Why the m/m?
I wanted to explore the pairings commonly used and why. We all realize that canon Edward has a little domination in him. This, in and of itself, totally justifies BDSM's appearance in fic, imho. But what about the others? Domsper? Slash? C/Em? Alice as a Domme?
What's with the pairing, Mistresses?
Why is slash so prevalent in BDSM ficery? Are the pairings important?
Mistress Tara sue me
I think yes, they are part of the BDSM dynamic and important. Without Chapter 10 of The Submissive, Bella and Edward could be seen as two lovers. It was at Chapter 10 that most readers, thought, 'whoa, there's more here going on than I realized.'
Mistress Erinmiyu
I don't think shippings are important, but the book lends itself to an Edward/Bella total power exchange D/s relationship. I know you are shaking your head going, "huh?" but when you think about it, Edward tried to control so many aspects of Bella's existence: who she saw (re: Jacob), what she ate (telling her to eat more at Bella Italia), where she went (disabling her truck so she had no mode of transportation), etc. These are NOT good examples of BDSM, because I find these are control issues in a domineering relationship, but they do show tendencies of him being Dominant vs. her being submissive.
Mistresses Kittenmischief
Shippings are not important as long as the story is well-written. Honestly, I think Alice as the Domme would just be hotter than hell. I'd love to see her get Emmett down on his knees. *Adds to my one-shot list for future writing*

I feel that the most common slash pairing - Jasper/Edward themed story is popular because it gives a reason for previously straight canon characters to become sexually involved with the other. The Dom in our story, Jasper, has subs of both genders, although the one he falls in love with is Edward. I can't say that I blame him.
Ummm, no. Me either.
---
Part 8: Readers Get Real
Sensationalism = Reviews?
Look, I can't honestly explore this topic without regarding the fact that well-written hardcore smut gets the quick reviews in this fandom. It's like the elephant in the room, so hate all you'd like, but you know you're thinking it. It isn't resevered for BDSM of course. It's my opinion that this is true for all WELL-WRITTEN hardcore smut. That is important.
While I'd love to crack some numbers and get some real-time stats to back this up as factual, the best I can do is take reader opinions. Of course the authors would say they don't write smut just to get reviews. That's an ignorant accusation. Too much investment goes into writing a story to even assume this is their primary motivation.
But... I wanna know what the readers think. So...
Do you ever feel as though the sensationalizing of the BDSM subject can get a story more attention?
I think that like every other trend that has passed through the fandom, BDSM is getting a lot of attention. Like everything the "shock" stories get a lot of attention, I think they do a disservice to any trend they "represent".
I definitely think so. It gets people talking. The idea of characters who were virgins being reincarnated as players in a scene involving floggers and leather and restraints is titillating, and also ripe for debate. It definitely brings attention.
For me personally? No. I wont just read a fic simply because it is BDSM - I don't actively search them out. I will read it if people whose opinion I respect have recommended it to me or if it is written by an author whose prior works I have enjoyed. For the fandom as a whole? I am on the fence. I haven't yet figured out the rhyme or reason of why certain genres become popular or certain stories seem to take off. I do know I am sure that there are many people who will not read a BDSM fic because they just don't find it appealing, regardless of how highly it is recommended. I would also assume that the converse is true, people who enjoy the BDSM subject matter above other subject matters will seek it out.
There is, admittedly, a pretty divded view on this. The fans of BDSM say no, while the more moderate readers usually say yes.
---
Part 9: Why is Domward so Hot?
So, if well-written, hardcore smut and BDSM get a lot of attention, no one can deny that it's likely because Domward/Domsper is pretty fucking hot.
Why is this so, Mistresses?
Mistress MsKathy
Everyone appreciates a confident sexual partner. Someone who knows what they want and isn't afraid to ask for it. In my head, he's so sexy because a good Dom is also someone that cares about meeting their sub's needs and desires, and who doesn't want to participate in an exchange of that sort of power and pleasure?
Mistress DefinatelyStaying
I don't think it's specifically Domward. I think that Domsper is just as sexy. In that same line of reasoning, I think that Domlisle or Dommet (heh) can be just as sexy if written in the right way. To me the appeal is in their Dominance, not necessarily their overall character.
Mistress Tara sue me
We're all fans of Edward Cullen. We already know and love him, so, in our imagination, nothing's hotter than having Edward Cullen tie us up and do wicked things to us...or... Bella. I meant tie Bella up and do wicked things to her.
---
Part 10: Recommended By the Best
What do you suggest we read?
In conclusion, I asked our lovely Mistresses what stories they recommend that involve the BDSM theme. No one knows good BDSM like the best authors of the genre, so here is what they had to say:
Mistress DefinatelyStaying
The Mistress and Her Master
by
Nan McCullen
was written for the BDSM contest, and she has now expanded it. She expends a lot of time and effort to research the lifestyle in order to give a positive and responsible portrayal of the relationship between her Edward and Bella. Even though it's very early on in the storyline, this is one that I would watch.
Mistress Erinmiyu
Alpha's Female
by
swill122
. It's a one-shot, and features a a Dominant Nessie and submissive Jacob! It's a fun read!
Mistress MsKathy
Right now I am really digging on this new story I found called
Broken Trust
by
GoldenPhoenix 12
.

Bella was a sub for Jacob, who abused her body and her trust. So far, the story has focused on Jacob and some drama surrounding his release from prison as well as how Bella is coping with his abuse of her. There are cliches, sure, but I think this author perfectly captures a lot of the emotion and psychology behind the people. Edward is a very caring Dom, he checks in with Bella frequently, he gives her choices and treats her as a sub -- not as a slave.
Mistresses Kittenmischief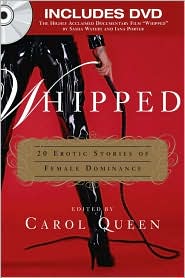 No, I spend more time writing than reading these days. When I want BDSM, I go for a book on my shelf. Carol Queen's Whipped is a collection of 20 short stories with female Dommes. It is scrumptious.
Thanks for the recs, Mistresses!
This concludes the first Installment of TLYDF's BDSM Deconstruction. Stay tuned for The Second Installment, where we'll explore the psychological facets of the relationships, characterizations, safety, and safewords.
---
Thanks to all the authors and readers who participated in this first installment! A big hand of thanks goes out to Mskathy, Nina, and DefinatleyStaying for holding my hand through the outline process and interview questions.