Twilight Gift Exchange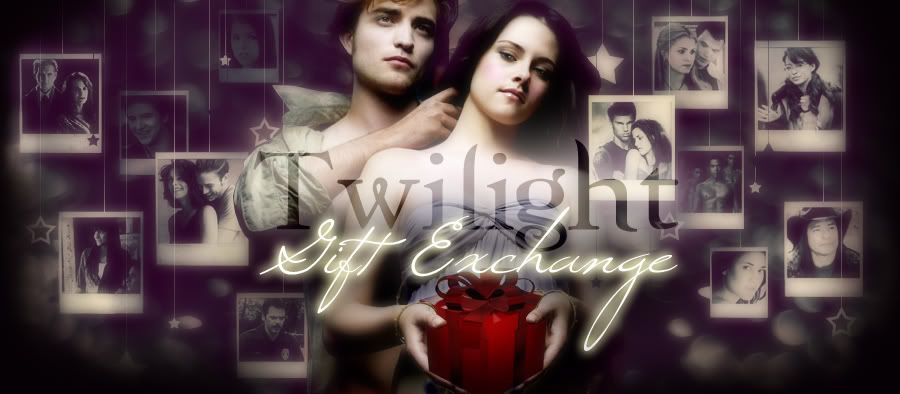 This is so exciting!! The second annual
Twilight Gift Exchange
kicks off today.
Sound of crickets chirping as people stare blankly and wonder:
a) what a gift exchange is and
b) why it is this falling under the header of Quickie Fickies?
That's okay, when I first heard of the summer 2009 Gift Exchange, I had the same reaction. But now I know that the gift exchange is one month of instant gratification, where we'll get 2-3 one shots/novellas every day for one month.
Yeah - you read right,
one month
.
The Gift Exchange is an incredibly cool concept, put together by the lovely ladies at
The Twilight Enablers
. Back in October, the call went out for up to 75 (yep - 75!) participants. Upon registration, each of these writers or artists were prompted to give up to 3 preferences on a story or piece of art work they would like to see custom made for them. Each individual was also prompted to identify what he/she would be willing to write. You got it, this is a quid pro quo deal.
To give you an idea on how it works, I've included the prompts/pairings I gave when I registered for the Gift Exchange:


Snowball fights and snowmen, cutting your own christmas tree; perspective on first time experiences from someone that's never been able to do those sorts of things (either by climate, socio-economic, etc)


Christmas caroling is a dying art, so a CDof old and new songs (classic, rock, etc) as a way to tell a story


21st century gift of the magi - sacrifing the one thing you hold dear to do something amazing for the person you love.


Preferred pairings: Edward and Bella, Emmett and Rose, Garrett and Kate, or Carlisle and Esme
I also had to provide what pairings or situations I wouldn't be willing to write (in my case, it was Jake or Slash - sorry folks, you wouldn't want to read it from me, so I won't offer to write it!)
The organizers then took these parameters and matched up all the participants. I received someone to write for, along with their prompts, and someone received my name along with my prompts. Once complete, stories were submitted to the organizers, who will post a few each day on the live journal site. No one knows who wrote what until the end, so there is the fun in seeing what was written for you, as well as trying to guess who wrote what. Think you could pick out the work of
GinnyW_31
,
SleepyValentina
,
LolaShoes
,
Ninapolitan
,
Lillybellis
,
Oxymoronic8
,
Ruby__Wednesday
,
ScarlettLetters
....and of course me,
Hmonster4
? Those are just a few of the contributors!
Think about it....2-3 quickies a day for a month! That's enough to make the biggest fan fic cynic smile.
And the fun won't end there. To keep things interesting, activities are planned throughout the Gift Exchange.
The Fictionators
will be posting teasers every Thursday for the upcoming week (did you check out
week one's teasers
yet?), and will host a "Guess Who Wrote What" contest at the end of the exchange. There were some terrific works that came out of the
summer exchange
, and the winter version is shaping up to be just as great! Go check it out!
---
---
Send all your favorite Quickie Fickie recommendations to us using
this form
!